The 41st New Hampshire Middle School State Cross Country Championships were held at Londonderry High School. 
With over 3000 entrants and 10 races, this made for a very exciting day.  The weather was changeable throughout the afternoon with mostly clouds above and only one brief downpour, so for a mid-October day, it was pretty much perfect.  The course was lengthened from last year and from one noted source it was measured at 2.33 miles on the tangents.  Trophies were given out to the winning teams and plaques to the top ten finishers in all of the championship races.
The Small School Girls Championship race was the first of four team scoring championship races slated for the day. 6th grader Addison Cox of Northwood ran a very smart and tactical race to win in 14:18.  It was the second year in a row that a Northwood girl raced to victory lane (Ahna McCusker 2013 winner). Hopkinton's Sydney Stockwell place second in 14:32, followed by Kay Partridge of Hollis Brookline 3rd 14:41, Madison Labrie of Boynton 14:45, Deerfield's Serena Britos 5th 15:06, Nashua Catholic's Elizabeth Croke 6th 15:10, Litchfield's Kaylee L'Etoile 7th 15:14, Merrimack Valley's Emma York 8th 15:18, Hollis Brookline's Lily Jackson 9th 15:18 and Litchfield's Gillian Gallagher rounded out the top ten in 15:18.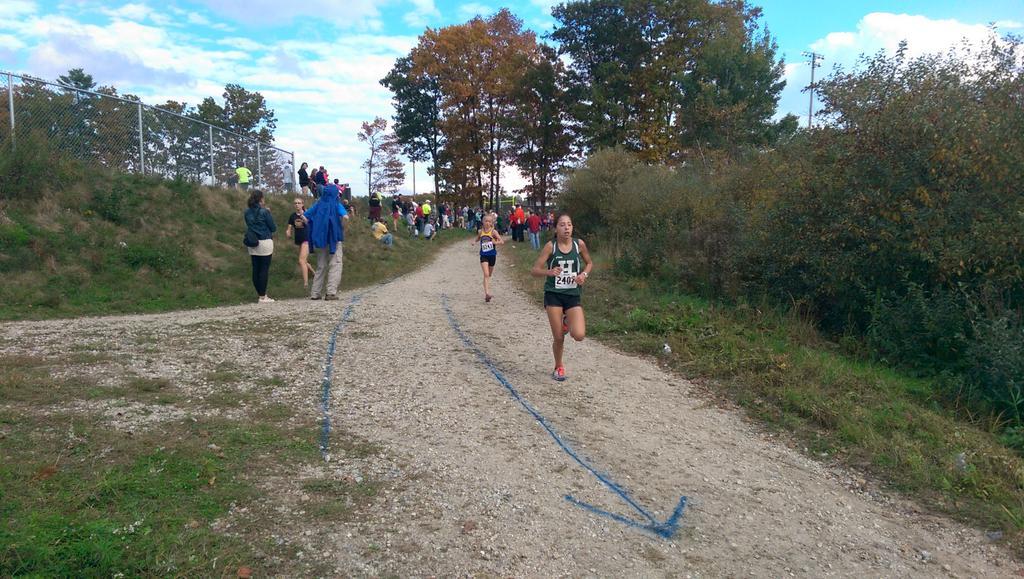 Deerfield won their first Girls' State Championship ever with 85 points, Hollis Brookline was second with 115 points, Boynton 3rd 144 points, Nashua Catholic 4th 151 points, and Hopkinton 5th with 160 points.  Winning team members for Deerfield were, Britos, Sarah Zarakotas, Piper Kilgore, Caley Nault, Sam Lemay, Julia Fifield, and Julianna Fusco.
The Large School Girls Championship was won by Violet Sullivan of Cooperative Middle School. She controlled the race from start to finish, crossing the line in 13:23 which was the fastest time of the day by any girl.  Taylor Clark of Amherst ran a great race to finish second in 13:47, ahead of last year's champion Lauren Robinson of Fairgrounds 3rd 13:57.  Lauren Brennan of Merrimack 4th 14:08, McGlaughlin's Morgan Nault 5th 14:12, Amherst's Arielle Zlotnick 6th 14:12, Hillside's Katelyn Peppin 7th 14:24, Keene's Hannah Drew 8th 14:26, Hillside's Keegan Pepin 9th 14:27 and Sophie Kim of Merrimack place 10th 14:28.
Amherst and 2013 Champion McGlaughlin finished in a tie with 66 points,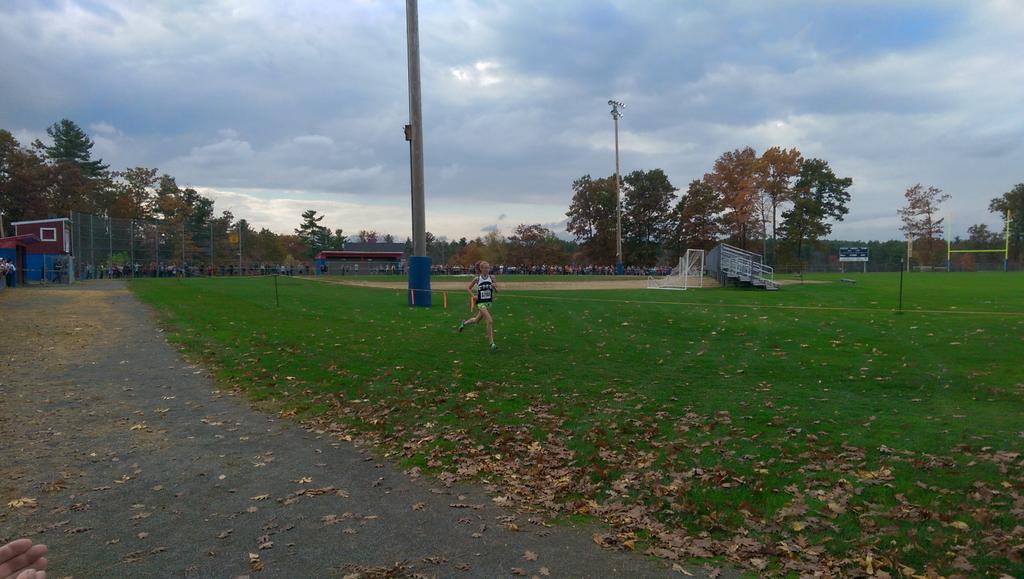 but Amherst's all important sixth runner placed higher than McGlaughlin's, giving the Amherst girls the 2014 Championship. Cooperative Middle School placed 3rd with 115 points, Hillside 4th 163 points, and Elm St. 5th 169 points. Winning team members for Amherst were Clark, Zlotnick, Abigail Kirk, Sophia Lunati, Jennifer Ladd, Emma Sette and Marissa Romano.
Deerfield's Forest MacKenzie proved again why he is the top Middle school racer in the Granite State, posting the fastest time of the day in 12:49. Joe Gagnon of Cawley placed second in 12:56 to finish way ahead of the next pack of runners which included Jake Velazquez of Chesterfield 3rd 13:24, Deerfield's Brett Richard's 4th 13:26, Barrington's Noah Strout 5th 13:26, Oyster River's Henry Keegan 6th 13:26, Hollis Brookline's Evan Simonds 7th 13:32, Deerfield's David Cook 8th 13:34, Boynton's Logan Thibeault 9th 13:35, and Matt Hutchinson of Hollis Brookline 10th 13:37.
Deerfield defended its 2013 State Championship despite missing Ryan Devine (broken foot suffered in last race) arguably the second best runner in the Small School Division.   Deerfield won its 3rd State Championship in the last four years with 48 points.  Hollis-Brookline placed second with 78 points
by placing 4 boys in the top 15 places.  Oyster River was 3rd 117 points, Boynton 4th 182 points and Chester Academy 5th 226 points.  Deerfield winning team members were MacKenzie, Richards, Cook, Brandon Richards, John Murphy, Joey O'Brien, and Jared Woodman.
Cooperative Middle School's Will Coogan is making quite a name for himself, with parents that were both in the Olympics and a multi All American sister in track and cross country. Seventh grader, Coogan ran 12:53 to win the Boys Large School Championship over Amherst 7th grader Zena Primmer 2nd 13:01, Londonderry 6th Grader Matt Griffin placed 3rd in 13:08, just ahead of teammate Kyle Hoglund 4th 13:09, Merrimack's Robert Sawdey 5th 13:10, Keene's Wyatt Ferrando 6th 13:11, Gilbert Hood's Jeff Mize 7th 13:15, Keene's Nico Ramirez 8th 13:17, Elm St. 9th Alex Chen 13:21, and Londonderry's Christian Ganim 10th 13:25.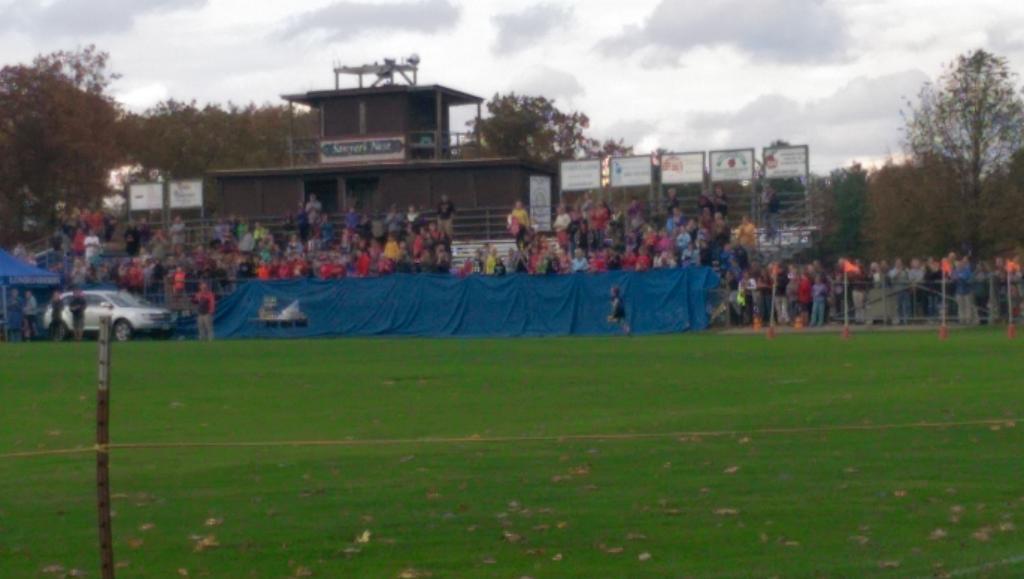 Londonderry won the 2014 Championship with 44 points by placing all 5 boys in the top 14 places to beat 2013 Champion Keene 98 points, Elm St. was 3rd 135 points, Hampton Academy 4th 189 points, and Amherst 5th 219 points.  Londonderry winning team members included Griffin, Hoglund, Ganim, Ryan Young, Thomas Fougere, and Mathew Naso.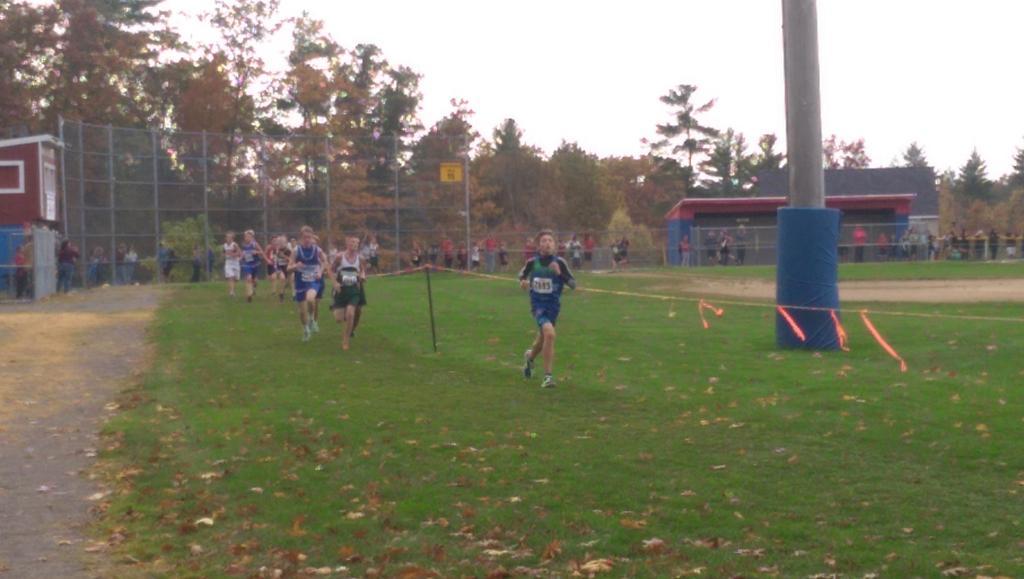 Thanks always to Londonderry High School and Londonderry Legend Larry Martin and his crew for putting this very special event together for so many years for all the middle school runners. Simply, we would not have a Middle School Championships if it were not for him, his family and crew.  We are very fortunate to have many individuals and organizations in our state that promote the sport of cross country.