With several Top 10 ranked teams, the 2023 Nashua North Invitational presents as an exciting early season preview of some of the strongest teams in the state. The first big invitational weekend of the year saw some of the bigger contenders spread out in a variety of highly challenging courses (Great Glen and Bobcat) or running a different style of race on a short but challenging course (Souhegan Relays). In a lot of ways this is the first opportunity to see who's athletes really showed up over the summer and which teams we should keep an eye on.
The girls race boasts 4 teams ranked in the early season Top 10 in the state of NH. Last year's surprise state champs, Hanover (#1) opened up their season last weekend at Great Glen but did not seem to have all of their pieces in place. They still won however beating one of the top programs in Vermont. If at full strength with Lea Perreard and company, Hanover will be tough to beat.
That said, Pinkerton, NH's current #2 in the state, looked strong in their opener last week at Souhegan Relays. Certainly looking forward to seeing Pinkerton, led by Contessa Silva and Isabelle Groulx, facing off with Hanover. This is a match-up we have been looking forward to seeing since last November! After watching Oyster River last week at Bobcat, we should be able to gain some clarity on which school is the actual best in the state as of this date.
It will also be interesting to see how Bedford factors in at full strength. With Fiona Lee returning to the line-up and on the flat and fast course of Mines Falls, expect the #4 team in the state to make their presence felt. NH's #5 team, Winnacunnet, led by Charlotte Koutalidis is also slated to compete. Could they be a surprise for not just this weekend but also the season?
Individually, it is difficult to see one athlete breaking away from the pack to win comfortably, so look for a front pack to form with Silva, Groulx, Koutalidis, Perreard, Lee, Kelseigh O'Neil (Bedford) and a surprise or two. Too early in the season to make a true prediction here, but this has the makings of a close race.
-Tim Cox
The boys race looks just as, if not more, competitive than the girls with 6 of the top 10 teams competing. Last year saw Nashua South come in and make an early season statement that they were the team to beat. Let's dive into the preview.
The likely winner is the Astros (#1) of Pinkerton Academy. They may have taken a surprise loss to St. Johnsbury up at the Mt. Washington invitational, but it wasn't due to a poor performance by the team, just a great run for the Vermont squad. Finn Christensen Kraft led with a sub 17 effort on one of the hardest courses New Hampshire has to offer and the team averaged a 17:32 which is especially impressive this early in the season on such a difficult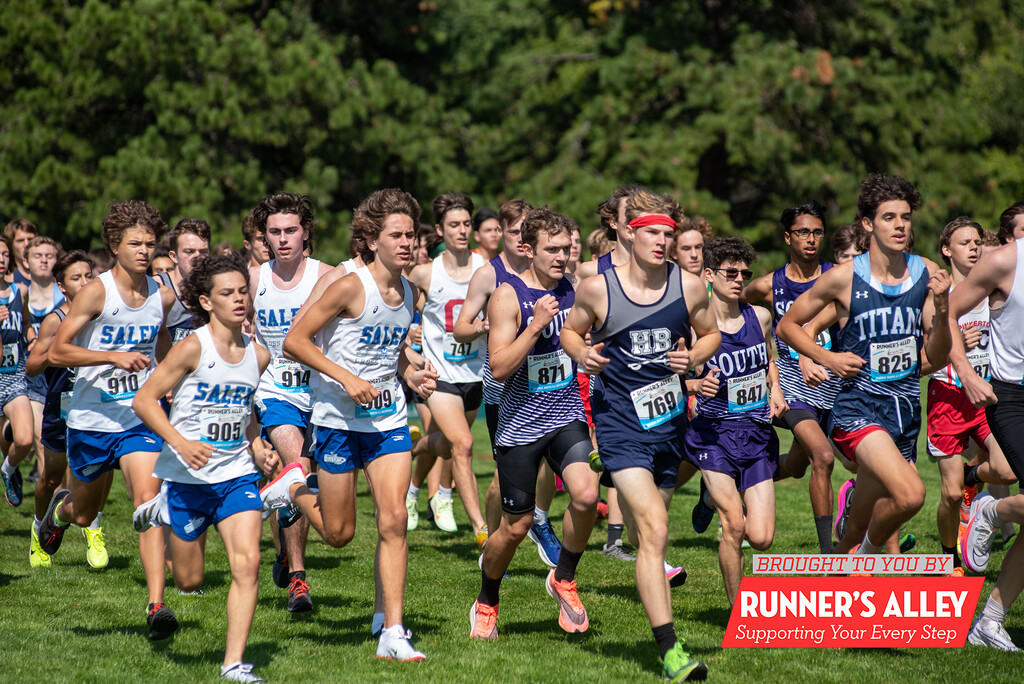 course.

Don't count out Nashua South (#2) though. This is their home course and the combination of strong returners and course experience could be exactly what they need to upset Pinkerton. They ran at Souhegan last weekend which is approximately a 4K and you end up running alone a lot due to the relay format. After looking at their splits and the fact that they swept the team scoring, the Panthers are LEGIT. Their top returner, Daniel Byrne, crushed it at this race last year and it wouldn't be a big shock to see South take the win this weekend.

In a fun surprise as I went to write this, Hanover (#4) is making the trip to Nashua this year! Based on the results from Mt Washington, you might think Hanover looked a little soft scoring way behind Pinkerton. If you looked a little closer you'd notice that several of their top returners didn't race and if we see them Saturday, Hanover could look like the team we expected entering the season. If we see them at full strength they should be a lot closer to our top 2 and maybe could give them an unpleasant surprise?
Bishop Guertin (#5) comes in with the presumed race winner Matt Giardina who appears to have run a sub 13:00 split at the Souhegan Relays that got an audible "whoa" when I saw it. They had a few other solid splits in the mix which means they should look pretty good, but I think it's unlikely you'll see them ahead of any of the teams previously mentioned. That said, if they can continue to build on a solid group they can definitely use this race as a nice springboard into the second half.

Salem (#7) ran in a duel meet where they looked strong through their top four though they were missing their top returner Brodie Chisholm. Presuming he's in the meet, Salem has the kind of squad that looks poised to move up in the rankings as the season goes on with a solid 1-2 punch of Chisholm and Brock James who should both be in the lead pack. The big question from them is where their 3-5 runners fit into the rest of the race.

In my season preview I said to watch out for Bedford (#8) as they presented like a team that was going to be a lot better than they looked on paper. After watching them run at the Bobcat Invitational they absolutely look like the team I was suspecting they were. Jacob Redman has a chance to compete to win the meet but it's the improvement of the guys behind him that really could see them quickly climb the
rankings after this one. If I'm Salem and BG I'm watching these guys really closely.

Anyone else to watch? Londonderry boys were right on top of Exeter (#10) at Bobcat with a squad of sophomores who seems to have made a notable leap from last year. Could Bobcat just be the start of new youth movement for them? They won't have anyone near the front but watch to see how quick they have their five in. Keene is another one to watch with a top tier #1 guy and a lot of solid returners. They don't usually make the trip to Nashua so it'll be exciting to see where they're at!

On the individual side, I'm not picking against Giardina until someone gives me a reason to. If that split from Souhegan was correct, he absolutely tore that course up and we might see him drop a real serious early season time. Who else should you keep an eye on? Jacob Redman started the season off with a solid win at Bobcat and looked like a guy ready to have an excellent season. Sully Sturtz looks like he's making the trip from Keene and is the #2 returner in Division I (though Redman did get him at the Meet of Champions). Daniel Byrne from South had an outstanding race last year and is the number #2 for the meet. Finn Christensen Kraft's run at Mt Washington where he took a third place finish looked like a huge improvement and he might be a candidate for a big jump up the individual rankings. I'd also keep an eye on Finn's teammate Nathan Binda, who similarly ran well at Mt Washington. Salem's pair of Brock James and Brodie Chisholm are both top 10 returners from last year's invite and are definitely a pair to keep an eye on. Lucian Gleiser from Hanover seemed to improve a lot as the track seasons went on and he may be someone who makes a big jump this season.
-Ian French
As with previous years we will be there to cover via pics, race videos and interviews. Also, we will be selling tees!!! Stop by out tent! Good luck to all!